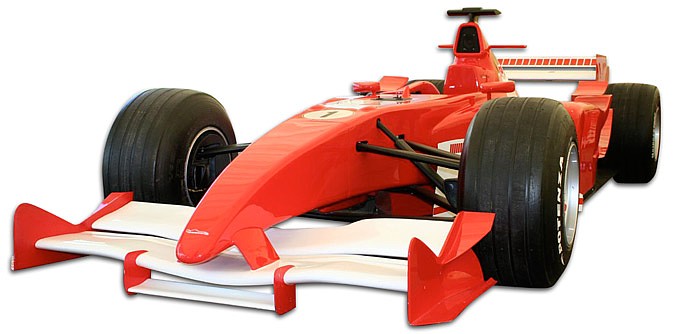 We supply up to 4 F1 cars which are available for hire. Each car comes with electric moving pedal systems, a tripple screen viewing option with totals a minimum screen width of 3m and some of the most realistic driving controls available. Our cars even come with new (origional) Pirelli tyres, which few people can boast about.

The car can be used as a showcar, simulator, pit stop car or even for photo oportunities.

We can brand the external area of the car with your company logos and we can even brand inside the game, where you can see your car AND your track.

Why not try to 'beat the GITS' our trained selection of incredible race drivers, who wear white race suits ;)

We can supply marquees for the car to go outdoors, scoreboards for lap times, flags and theming, music and a host of extras for your event.

The car measures 1.8m x 4.8m

If your looking for the wow factor at your corporate event, then look no further.
This car will stop people in their tracks! If you saw our stand at confex 2007, you will have had the pleasure of seeing this amazing machine.

Event Spec
Duration: based on 4 hours, but can do more.
Number of people: 1
Setup time: 1 - 2 hours.
Req space: 5m x 2m - requires 1.8m wide flat access to go indoors.

What We Provide
A Full Sized Car as a simulator, pit stop or show car.
Staff Member
Triple screen display for a simulator
*branding of the car

FYI

We also offer 'Family Fun Day'
entertainment and planning.


Good for adults "BIG BOYS TOYS" and children alike, this Formula One is the full sized f1 racing car simulator game and will provide hours of fun at any private party, street event or corporate function.
We deliver nationally and internationally. We the quality of our giant event games entertainment.