Book our wide range of F1 - Formula One Car Racing Games and Simulators. These Arcade Racing games are ideal for adults "BIG BOYS TOYS" and children alike, these racing games will provide hours of fun at any corporate or company function, private party or street event. We deliver nationally and internationally.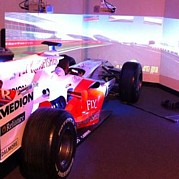 Full Sized F1 Simulators
We have updated our full sized F1 simulator and bring to you the UK's most modern full sized F1 simulator. The car is the very latest design and will stop people in their tracks. Not only does it look incredible, but it also has electric moving pedals, the worlds most realistic driving controls and a tripple 50" plasma screen display which is the biggest in the country. We have up to 4 cars available. We offer only the most up to date and realistic controls, computers and displays available.
We have a host of screen options with the full sized F1 simulator car, so please enquire as to what will be best for your event. Also for marketing puposes we offer external branding on the F1 simulator cars and even in game branding .. this is an incredible marketing tool.

Game Spec: 4.67m x 1.8m - The car requires completely flat access and a minimum door width of 1.5m for it to go indoors.
The car can be utilised outdoors if there is an access issue. We would provide a 6m x 3m themed marquee to house the simulator in.

Pit Stop Experience
This F1 pit stop car is a car which was specifically designed and built for this type of event. Teams will get to try there hand at a life like pit stop with trolley jacks, lolly pop and drills. All the action is timed on our digital timer and times logged on our themed scoreboard.
Price From £1245.00 +VAT
As a F1 simulator
Area:
Nationwide - International