Singing waiters and waitresses for Hire something unusual for your party events!
We have had so many amazing comments about you guys from our guests - it was great to see so many people's jaw's literally hit the floor when you started singing!
Opera Singing Waiters
On the day of the event, the singers will arrive at the venue well in advance of the start time, so that we can conduct our sound check before any guests arrive, thus preventing any ďspoilersĒ. The opera singers will liaise with you or your venue ahead of the event in order to ascertain what the other waiters will be wearing. The singers will wear the same uniform as the other staff in order to blend in. We also work with the other waiting staff at certain points throughout the meal, serving drinks, food etc, so that all of the guests will have seen us working in a serving capacity, and most of them will have been served by us directly, which makes the ultimate revelation that we are in fact opera singers even more of a shock!
(NB: We do of course liaise with the caterers to see what level of serving they are happy for us to do, but mostly they are glad of extra help! However, please note we are not replacement waiters and will not be providing full waiter service)

We request that the client provide us with contact details for the venue and the caterers so that we can liaise with them ahead of the event.

At a time agreed with our client, usually once the main course has been cleared, or after dessert, some kind of bogus announcement will be made, for instance, a member of staff is leaving and itís tradition to make them sing a song for the guests (the content of this varies depending on venue, event, client request etc.) at which point the first of the singers is revealed. The other singer(s) are then revealed in the course of the following pieces of music. The musical performance is usually around 15- 20 minutes in length. For longer performances, please contact us for a quote.

Opera Singing Waiters with Comedy Waiter
This is as above. In addition, the comedy waiter works with the other waiting staff serving wine etc. Whilst doing this he will be cracking jokes, being mischievous and generally appearing to be hilariously badly behaved.

At a time agreed with our client, instead of the bogus announcement mentioned above, the comedy waiter takes the stage and after a brief stand up routine, performs a comedy musical piece and then creates a build up for the revelation that some of the waiting staff are not what they seem! The act then continues as above.

Technical Specs
For medium to large parties or rooms with no acoustic (Marquees, outdoors, very large and upholstered rooms etc.) a radio microphone is required for each waiter, as well as facilities to play the backing tracks. Backing tracks can be provided either in the format of CD or MP3 player/ipod.

NB: For small parties or rooms with excellent acoustics it may be that we can work without microphones, simply a sound system on which to play our backing tracks. Please contact us to discuss whether this is possible. Backing tracks can be provided either in the format of CD or MP3 player/ipod. Alternatively, we can be accompanied by a pianist for a small additional cost.

Other Points
Under normal circumstances, we request that some kind of food and refreshments be provided before the singing performance as, due to early arrival times, this proves to be a long day for the singers!

Testimonials

Dear Octavio
I just wanted to write and thank you and Elinor for the wonderful performance you gave at our dinner at the Bodleian Library last Saturday night. It is fair to say that you were certainly the highlight of our conference, and I hope that you sensed that from the reaction of our delegates on the night. Many people have commented how fantastic you were, and how well you and Paul carried off the introductory proceedings - everyone was taken in! You and Elinor are an absolute delight, and we are thrilled with what you did for us. Thank you also, Terry, for arranging the event for us. It has been a pleasure to deal with you, and I hope our paths cross in the future. In the meantime, take care, and thank you again.

Jane Spillman - Administrator - Group Services - Horton Group International Ltd

Hi Elinor,
Just a quick note to thank you and Octavio and Tony for the most incredible performance on Saturday. You all really made the party for us, and Stephen still cannot believe I kept it a secret from him! The repertoire was superb and your voices were wonderful. Thank you again so much and if you ever need any sort of reference please do not hesitate to contact me. As you can see I have copied in Terry of Stepping Out as I wanted him to know how terrific you all were.

Regards - Rhoda

Elinor
Adele and I have just returned from our 3 week honeymoon and settling in to our first day back at work. I wanted to drop you a note to say a massive thank you for your performance on Sat 31st July at Hengrave Hall - we have had so many amazing comments about you guys from our guests - it was great to see so many people's jaw's literally hit the floor when you started singing. Sorry again about the microphone debacle, apparently it worked fine during testing just before -- you guys managed to still pull off an amazing performance even without them! Thanks again, and I hope that we get to see you perform at another event in the future!

Sincerely -Ben and Adele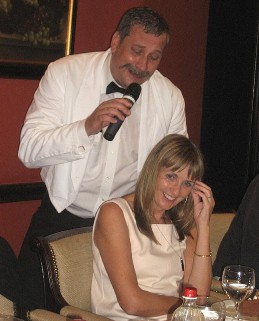 Price From £ 420.00
per Singing Waiter based on functions in
London.
Willing to travel nationwide although
extra fuel and accommodation may apply.


Tommy and Jonny as the 'Singing Waiters' never fail to surprise or impress!
Together they create an atmosphere of fun and humour that builds over the drinks reception, wedding breakfast or during dinner that compliments their performance perfectly.
''The graceful comedy of your waiting skills leading up to your surprise performance, left people in tears of laughter once you started singing.
The excellence that you demonstrated left us all speechless....a real hit with everyone.'' Selsdon Park, Surrey.
Your guests will be roaring with excitement and applause as Tommy and Jonny effortlessly role reverse from Waiter to performer singing in perfect harmony to everybody's astonishment!
Songs made famous by the legends of swing, L.O.V.E, Did you ever (what a swell party this is!) And all glasses raised for 'That's Amore'.

SINGING GUESTS
Imagine the look on your guests faces as 'The Rat Pack Boys' jump up from the table between courses! Discreetly swapping their cutlery for radio microphones and singing 'Well did you ever, What a swell party this is!' - the look on everybody's face is priceless!

Mingling and dining with your guests, Tommy and Jonny will have had the time to convince your guests that they are distant cousins from Italy, business associates or even work colleagues. With fun loving and laid back personalities, nobody will suspect a thing, not only can these boys perform on the big stage but acting off stage is second nature to them!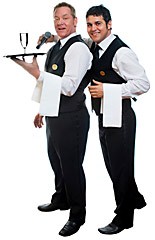 A SMALL SELECTION OF OUR REPETOIRE

The Lady is a tramp
It had to be you
Straighten up and fly right
Ainít that a kick in the head
Mack the knife
We are in love
The way you look tonight
Fly me to the moon
Iíve got you under my skin
Iíve got the world on a string
Witchcraft
Summer wind
Have you met Miss Jones
Chicago
Donít get around much anymore
I could write a book
Letís call the whole thing off
It happened in Monterrey
The Tender Trap
For Once In My Life
Memories are made of this
Call me irresponsible
You Don't know me
Canít Take My Eyes Off You
Let There Be Love
You Make Me Feel So Young
My way
New York, New York
One for my baby
Luck be a lady
I left my heart in San Francisco
Night and day
How little we know
Thatís life
The good life
All I ask
They canít take that away from me
Just one of those things
Love and marriage
Strangers in the night
Come fly with me
Recipe for love
Things
Nice and easy
Music to watch girls by
Mr Bojangles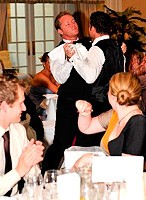 Our singing waiters show is very interactive from the outset. We act as waiters from the drinks reception & throughout the wedding breakfast, starting the singing performance usually between mains and desserts (25 minutes singing performance). The show is very humorous and never fails to surprise or create a real buzz amongst the crowd.

We are professional performers so not restricted with availability, we have very flexible options and can offer additional evening performances and the disco if required as well as the options of a 3/7/17 piece bands.

We carry our own self contained EV P.A system (4 x EV ZX5's, 2 x EV ZX1's, 2 x Mackie SRM 450's) so are able to provide sound for up to 2000 people)

Price for the 'Singing Waiters' show is from £1450.00